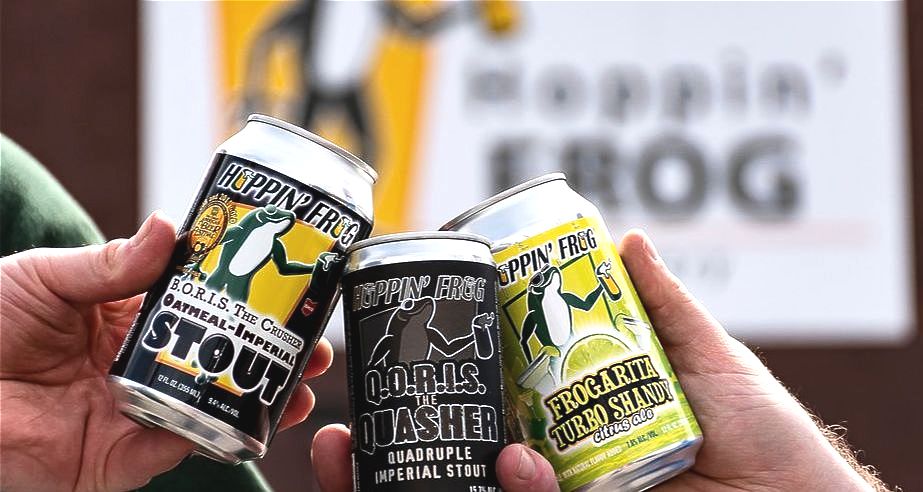 Hoppin' Frog Pre-Order
Happy Monday everyone, 
Winter is coming. That means it's time to stock up your shelves with some liquid soul warmers from Hoppin' Frog.
The selection has a little something to make everyone's mouths water. From imperial stouts to goses to strong ales to shandys, they've got it all.
Not to mention a variety packaging types– bottles large and small, cans large, small and smaller, and even a great selection of kegs!
The beers will arrive just after the new year, to get you over the mid-winter slump.
We need your pre-order no later than Thursday (September 16th). 
Write to lau@drikkeriget for the pre-order list.
15th Annivesary Ale – 15% – Hoppin' Frog celebrated their 15th birthday as they do best– by making a MASSIVE beer. This time they made a BA strong ale, sophisticated and complex with a combination of Belgian and British Ale yeasts, which derive the perfect blend of spicy and fruity flavors. It is brewed with both Czech and German hops along with two types of Belgian candi syrup. They didn't stop there– they aged this superb ale in extremely rare bourbon barrels to add another layer of complexity. Strong Ale perfection!
Besides this beast, you can choose between MANY other BOTTLES, CANS and KEGS, like: 

15th Anniversary – Bourbon BA Strong Ale – 15%
Rye B.O.R.I.S. The Crusher Batch #400 – Oatmeal Imperial Stout – 9.4%
Peanut Butter Hazelnut Caramel Chocolate Cake Stout – Pastry Stout – 8%
Barrel-Aged B.O.R.I.S. The Crusher – Oatmeal Imperial Stout – 9.4%
Extended Barrel-Aged D.O.R.I.S. The Destroyer – Bourbon BA Imperial Stout – 10.5%
Anejo Barrel-Aged Sattlerita Turbo Shandy Citrus Ale – Turbo-charged, BA Shandy – 10%
+ MORE 
The Morning After De Haag (16.65%) is a quintessential English-style Old Ale and a true masterpiece, with each sip being a delicious new experience. With an abundance of select maple syrup added, and then aging on gourmet coffee beans, Den Haag awakens to an even more complex, interesting and satisfying flavor profile. Still aged in rare, sought after Bourbon barrels, and this time with ex-Bourbon Maple Syrup barrels(!), all creating an extremely delicious and memorable character.
Peanut Butter Hazelnut Caramel Chocolate Cake Stout – 8% – The rich, decadent character of this gourmet cake stout will fill your senses with friendly, familiar flavors and aromas of yesteryear. Take a trip back in time, and enjoy all the memories that our Peanut Butter Hazelnut Caramel Chocolate Cake Stout will invoke.
Need to stock up on rich, dark beers NOW?
Don't worry, we've got you covered.
Check out the pricelist below to see decadent beauties from AleSmith, Equilibrium, Hoppin' Frog, Lost Abbey,Perennial, Popihn, The Bruery, and The Veil.