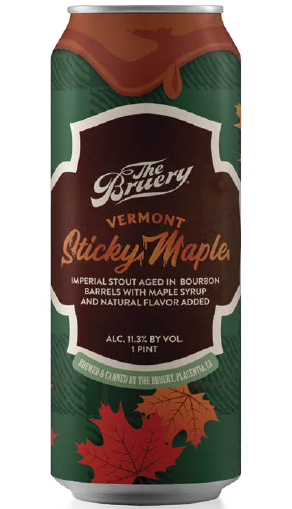 DECADENT . STICKY . DESSERT
Happy Monday! We're very pleased to be able to offer you this delicious limited release from The Bruery. In their own words:
"We scoured the hills of the green mountain state to find the perfect maple syrup to complement this barrel-aged imperial stout. Sticky and decadent, with a subtly sweet and big bold mouthfeel. Notes of cooked sugar and chicory compliment the roasted malt characteristics, blending seamlessly with the vanilla nuances imparted by the time spent in bourbon barrels."
Don't Miss Out
As always, we didn't just bring in the one new beer from our friends at the Bruery, but have a couple more new brews on offer, including this Tart Wheat Ale aged in Oak Foeders with Blackberries.
Be sure to check the price list below! 
Speaking of not missing out..
If you missed these (extremely sought after) cans from Evil Twin Brewing NYC, we still have a handful available, flown in fresh a few days ago:
I Don't Feel Like Taking the Subway. Let's Take A Cab All the Way There.
DDH DIPA. Mango, passionfruit, lime and berry notes. Medium bodied. Creamy mouthfeel. Subtle bitterness. 8.40% ABV
These beers make it in very limited quantities to Europe, so here's your chance to get your hands on some! 
Our price list contains the beers featured above, but we always have a wide variety for you to choose from and constantly add great new beers, updated every Monday. We urge you to take a look at the list on a weekly basis to keep up with the releases.
At the moment, we feature beers from:
2nd Shift, 3 Fonteinen, AF Brew, The Ale Apothecary, Alesmith, American Solera, Anchorage, Arpus, B Nektar, Cascade, Crooked Stave, Decadent, Evil Twin, Evil Twin NYC, Fuerst Wiacek, Hoppin' Frog, Jackie O's, Jester King, Jolly Pumpkin, Kern River, Logsdon, Lost Abbey, Melvin, Perennial, pFriem, Port Brewing, Prairie, The Bruery, Vonseitz Theoreticales, and Zagovor.
New Beers in this week:
3 Fonteinen – Hommage Blend #9– Lambic w. Raspberry & Sour Cherry 5.7%ABV 12P
3 Fonteinen – Oude Geuze Cuvée Armand & Gaston Blend #79 (12x375ML) – – 6.7%ABV 14P
3 Fonteinen – Hommage Bio Blend #33– Lambic w. Raspberry & Sour Cherry 6%ABV 14P
3 Fonteinen – Oude Geuze Blend #12 (12x375ML) – – 6.4%ABV 13.5P
3 Fonteinen – Oude Geuze Blend #46 (6x750ML) – – 6%ABV 13P
3 Fonteinen – Oude Geuze Cuvée Armand & Gaston Blend #36 (6x750ML) – 6%ABV 13P
The Bruery – Frucht Blackberry – OA Berliner Weisse w. Blackberries . – 4%ABV 11P
The Bruery – So Happens It's Tuesday – Bourbon BA Imp. Stout – 14%ABV 26P
The Bruery – Vermont Sticky Maple – BA Bourbon Stout w. Maple Syrup – 11.3%ABV 24P
Únětický Pivovar – Pivo 12° Nefiltrované – Czech Pilsner – 4.9%ABV 12.6P
Drikkeriget is a craft beer distributor importing the finest beers from craft breweries in small quantities for sale in speciality trade around Europe.