Happy Monday everyone!

We're kicking off this week with our first ever shipment from S43 Brewery.

''We started life back in 2012, focusing on developing our own British Style Cask Ales out of Country Durham based Brew House. Back then we were known as Sonnet 43 back then (inspired by the Victorian poet Elizabeth Barrett Browning, who was born and raised in Coxhoe, County Durham, the village our brewery calls home).

"Another three busy years of brewing our beloved Cask Ales and, we noticed a change in our palettes. Whilst, we were still chugging cask specials at a rate of knots, we were getting excited by some of the more hop-forward flavours from over the pond. This is when we got in touch with the Texan, to come and develop the craft arm of the brewery."

Get to know them through their super fresh IPAs and IPLs that we have in stock now.
Next up, we have some more from one of our favorite European producers of crushable IPAs –  Ārpus. This week, we are pleased to offer both cans and kegs of :

DDH Citra DIPA – 8% abv Citra single-hop New England-style DIPA

DDH Mosaic DIPA – 8% abv Mosaic single-hop New England-style DIPA

DDH Hops x Art #05 IPA– 7,2% abv IPA, where they feature the analog photography from their headbrewer, along side an IPA that packs a punch with Bru-1, Hallertau Blanc, Citra.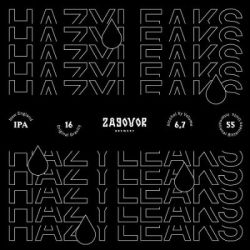 Our price list contains the beers featured above, but we always have a wide variety for you to choose from and constantly add great new beers, updated every Monday. We urge you to take a look at the list on a weekly basis to keep up with the releases.
At the moment, we feature beers from:
2nd Shift, 3 Fonteinen, AF Brew, The Ale Apothecary, Alesmith, Alpha Delta, American Solera, Arpus, B Nektar, Bellwoods, Black Cat, Cascade, Equilibrium Brewery, Evil Twin, Evil Twin NYC, Fuerst Wiacek, Hoppin' Frog, Grimm, Interboro, Jackie O's, Jester King, Jolly Pumpkin, Logsdon, Lost Abbey, ODU, Perennial, pFriem, Port Brewing, Prairie, S43, The Bruery, The Hop Concept, Vonseitz Theoreticales, Wild Lab, and Zagovor.
Don't miss out- contact us for a copy of our pricelist.