Cascade- the best sour beer brewery in the United States?
The New York Times certainly seems to think so! A panel at the paper tasted 20 sour beers from around the country and declared Portland's own "House of Sour" as the No. 1.
From Forbes Magazine: "…they have quality born of experience. I tried half a dozen beers and each one was a triumph. The brewery comes from a time in American brewing when precision trumped volume and technical excellence beat hype, and it shows through in their wide variety of sour beers."
(Source: http://bit.ly/315qL9T)
At Drikkeriget, we're proud to be Europe's exclusive importer of these masterful beers and have a great new selection available for you this week!
We're celebrating Oregon this week with new beers from Cascade, Logsdon and pFriem Family Brewers!
Pfriem?
"Lift a glass to the pFriem ("Freem") family of artisanal beers­­— rife with complexity and elegance, influenced by the great brewers of Belgium, but unmistakably true to their homegrown roots in the Great Pacific Northwest."
We're excited to present you these beers for the first time ever!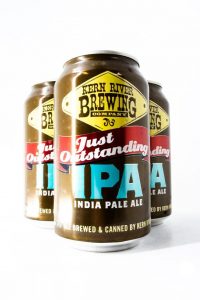 Looking for something outstanding? We have Kern River's Just Outstanding IPA available in cans & kegs!
From the brewery:
"The name says it all. Named after a local mountain bike trail, this India Pale Ale has a large malt character and a huge hop profile. We Dry hop this beer with Simcoe and Amarillo hops to give it that great floral aroma and citrus finish. If you like India Pale Ale you'll find this one Just Outstanding."

Our price list contains the beers featured above, but we always have a wide variety for you to choose from and constantly add great new beers, updated every Monday. We urge you to take a look at the list on a weekly basis to keep up with the releases.
New Beers this week:
Cascade Brewing – Apricot 2017 – BA Sour Triple Ale w. Apricot – 7.3%ABV 16.5P
Cascade Brewing – Brunch Line 2017 – BA Sour Ale w. Chardonnay Grapes & Orange Zest – 9.6%ABV 20.4P
Cascade Brewing – Coastal Gose – Imp. Gose w. Sea Salt & Coriander – 7.2%ABV 16.8P
Cascade Brewing – Coral Horizon – BA Sour Ale w. Grapefruit Zest, Hibiscus Tea & Ginger- 8%ABV 18P
Cascade Brewing – Cuvee de Jongleur – OA Red, Tripel & Quad Blend – 9.4%ABV 20P
Cascade Brewing – Garden Party – BA Sour Ale w. Chardonnay Grapes, Lemon Zest & Elderflowers – 9.8%ABV 20.7P
Cascade Brewing – Kriek 2017 – BA Red Wine Sour Red Ale w. Cherries – 7.7%ABV 17.5P
Cascade Brewing – One Way or Another 2017 – BA Triple w. Marrionberries & Meyer Lemon – 7.7%ABV 17.5P
Cascade Brewing – Primordial Noir – BA Bourbon Sour Red w. Cherries & Spices – 10.5%ABV 21.5P
Cascade Brewing – Rose City Sour 2017 – BA Sour Ale w. Rose Petals, Rose Hips and Hibiscus Tea – 8%ABV 15P
Cascade Brewing – Sang du Chêne – BA Oak, Wine & Cognac Sour Ale Blend – 9.7%ABV 20.1P
Hoof Hearted Brewing – BA Bourbon Fitness Freak – Bourbon Barrel Aged Imperial Stout w/ Madagascar Vanilla, Hoof Coffee, and Vermont Maple Syrup – 14%ABV 29.4P
Hoof Hearted Brewing – BA Bourbon Girth Brooks – Bourbon Barrel Aged Imperial Stout w/ Hoof Hearted Coffee, Coconut & Vanilla – 15%ABV 30.7P
Hoof Hearted Brewing – Cowboy Konkey Dong – DDH DIPA w. Motueka, Dr. Rudi, Nelson Sauvin, Mosaic & Amarillo – 8%ABV 17P
Hoof Hearted Brewing – Quit Your Fussin' On Me – Sour DIPA w. Boysenberry, Blackberry, Raspberry, Vanilla and Lactose – 9%ABV 20.1P
Hoof Hearted Brewing / Evil Twin Brewing – Even More Tennis Elbow – Double Mash Imperial Stout w/ Hazelnut, Coconut, and Vanilla – 13%ABV 27P
Logsdon Farmhouse Ales – Deep River Blues – OA Farmhouse Ale w. Blueberries – 7.5%ABV 17.2P
Logsdon Farmhouse Ales – Far West Vlaming – Flemish Red – 6.5%ABV 15P
Logsdon Farmhouse Ales – Peche – Farmhouse Ale w. Peach & Brett – 10.0%ABV 21P
Logsdon Farmhouse Ales – Raven & Rubus – BA Bourbon Sour Ale w. Raspberries – 8%ABV 18P
Logsdon Farmhouse Ales – Spontane Blanc 2018 – OA Spontan Ale w. Grapes – 7.7%ABV 17.5P
Logsdon Farmhouse Ales – Spontane Wilde 2018 – OA Spontan Ale – 7.5%ABV 17P
pFriem Family Brewers – Bosbessen – Lambic Style Ale w. Blueberries – 6%ABV 14P
pFriem Family Brewers – Farmhouse Fleur – Farmhouse Ale – 4.8%ABV 13P
pFriem Family Brewers – Flanders Red 2019 – 7%ABV 16P
pFriem Family Brewers – Lemon Zest – Farmhouse Ale – 6.2%ABV 14P
pFriem Family Brewers – Oud Bruin 2019 – 8.7%ABV 19P
pFriem Family Brewers – Oude Kriek 2019 – 5.6%ABV 13.4P
pFriem Family Brewers – Saison – 6.5%ABV 14.5P