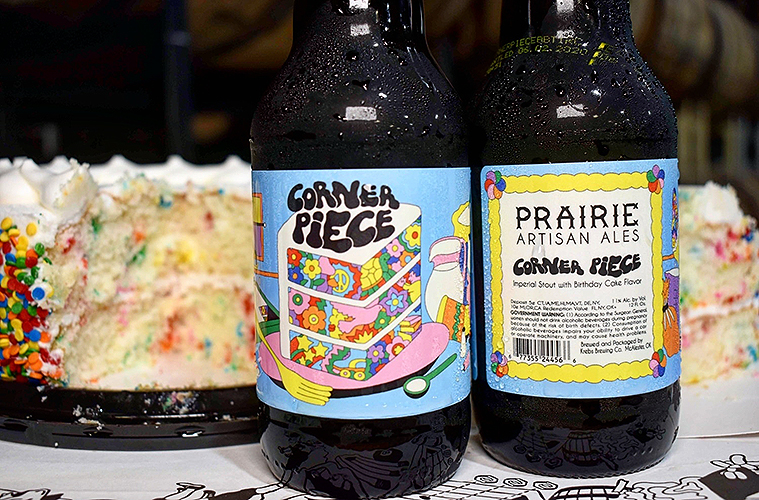 Happy Monday everyone!
Massive, massive list this week- the perfect heavy selection for all your holiday / winter shelves.
Kicking off with none other than Prairie Artisan Ales! The guys from Oklahoma know how to brew some serious stouts, and do we have a selection for you.
As pictured above, we have their brand new 'cake beer' – Corner Piece, but also a very limited amount of some barrel aged goodies; please keep in mind the low availability (and high demand) of these when placing your orders. 
Check out the full list on the price list attached! 
Anchorage
And if Prairie wasn't big enough, Anchorage is really bringing the bang. We have some brand new beers, along with a few classics and, as pictured,
The Sacrifice– imperial stout with "tons" of coconut, rated 4.5 on Untappd.
Very limited quantities available
Offshoot
And don't think we forgot all about hops. We have yet another release this week in the form of Offshoot, by the Bruery. Don't miss:
Escape (It's your everyday West Coast IPA) – their homage to the hop-focused Southern California tradition of West Coast IPAs
Our price list contains the beers featured above, but we always have a wide variety for you to choose from and constantly add great new beers, updated every Monday. We urge you to take a look at the list on a weekly basis to keep up with the releases.
At the moment, we feature beers from:
2nd Shift, 3 Fonteinen, AF Brew, Alesmith, Alpha Delta, Anchorage, Arpus, B Nektar, Bellwoods, Cascade, Equilibrium Brewery, Evil Twin, Evil Twin NYC, Fuerst Wiacek, Hoppin' Frog, Interboro, Jackie O's, Jester King, Jolly Pumpkin, Logsdon, Lost Abbey, Offshoot, Perennial, pFriem, Port Brewing, Prairie, S43, The Bruery, The Hop Concept, Trillium, Vonseitz Theoreticales, Westbrook, and Zagovor.