Evil Twin Brewing NYC
This week, we feature some airshipped specials from the one and only- both kegs and cans! 
If you haven't yet heard of Evil Twin's brand new (and first) brick & mortar brewery, you've missed out! The NYC brewery has been brewing some of the most unique and innovative beers out there, and some of the best drinking beers too (in our humble opinion). Quantities so far have been very limited, but we are very happy to be able to offer you some of these beers now! 
From the brewery: "At Evil Twin Brewing NYC we wanted to expand upon the traditions of innovation & further it with the intimacy of a local neighborhood microbrewery. With more control over our recipes, we are able to experiment on new flavors while perfecting the classics."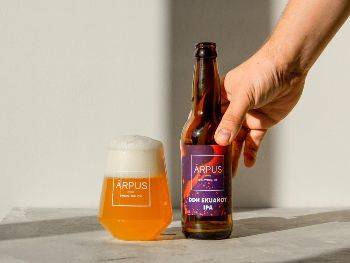 Beer from Latvia?
Our Baltic friends from Arpus Brewing Co. have been churning out some of the most impressive hop juice we've had from Europe of late- have you had the pleasure?
A handful of cases left in stock, so don't sleep on these!
Pure Magic
This amarillo dry-hopped mix culture grisette from American Solera is just pure delicious! Extremely refreshing with a hint of clover, some grassy spice, and some tropical fruit- very quaffable.
New Beers in this week:
De Garde – The Armagandias – 2Y BA Armagnac Wild Ale – 5.5%ABV 11.5P
De Garde – The Bluest – OA Wild Ale w. Blueberries – 7%ABV 14P
De Garde – The Lucy – OA Wild Ale w. Muscat Grapes – 8%ABV 16P
De Garde – The Petria – OA Wild Ale w. Riesling Grapes – 7.9%ABV 16P
De Garde – The Serine – OA Wild Ale w. Syrah Grapes – 8.5%ABV 16P
Evil Twin Brewing NYC – I don't feel like taking the subway. Let's take a cab all the way there – DDH DIPA w. Citra & Ekuanot – 8.4%ABV 17.7P
Evil Twin Brewing NYC – I doubt this bodega has any of the things on my grocery shopping list – DDH IPA w. Motueka & Galaxy – 6.1%ABV 13.4P
Evil Twin Brewing NYC – Isolada – Sour IPA w. Pineapple, Shredded Coconut, Cream of Coconut & Sherry Powder – 6.5%ABV 14.7P
Evil Twin Brewing NYC – The Sour IPA is dead, long live The Sour IPA! – Sour IPA brewed w. Passionfruit, Dragonfruit, Raspberry, Almond, Cinnamon & Nutmeg – 7%ABV 15P
Evil Twin Brewing NYC – These drinks are so expensive. Do I have to tip? – DDH IPA w. Citra & Wai-iti – 6.5%ABV 14P
Our price list contains the beers featured above, but we always have a wide variety for you to choose from and constantly add great new beers, updated every Monday. We urge you to take a look at the list on a weekly basis to keep up with the releases.
At the moment, we feature beers from:
2nd Shift, 3 Fonteinen, AF Brew, The Ale Apothecary, Alesmith, American Solera, Anchorage, Arpus, B Nektar, Cascade, Crooked Stave, Decadent, De Garde, Evil Twin, Evil Twin NYC, Fuerst Wiacek, Hoppin' Frog, Jackie O's, Jester King, Jolly Pumpkin, Kern River, Logsdon, Lost Abbey, Melvin, Perennial, pFriem, Port Brewing, Prairie, Separatist, The Bruery, Vonseitz Theoreticales, and Zagovor.
Drikkeriget er en ølimport, med en klar vision at importere det ypperste øl fra mikrobryggerier i små mængder til salg i specialhandlen rundt i det ganske land. kvalitet frem for kvantitet. Drikkerigets opskrift har bevist sit værd med flere enestående aftaler med nogle af verdens bedste og mest innovative bryggerier.